European Union flag in Cyprus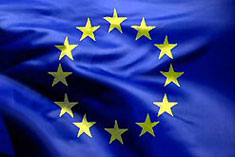 EU Flag
Often you may see the European Union's flag in Cyprus - the circle formed by twelve golden stars on the deep blue background.
The Republic of Cyprus became a full member state of the European Union on May, 1 2004. Formal relations with the EU started in 1972 when Cyprus and the EEC signed an Association Agreement which was basically a trade agreement. The application for full membership in the EU was submitted by Cyprus in July 1990. Negotiations for accession began in 1998 and were successfully concluded at the end of 2002.
The EU flag appears on the face of all euro currency banknotes, and the stars on euro coins (euro is planned to be introduced in Cyprus in January 2008). Also, the flag of the EU may be seen on driving licenses and license plates issued in Cyprus and other member countries of the EU.
The use of the flag is controlled jointly by the Council of Europe and the European Union.
The flag of European Union flies above the parliament, municipal and governmental buildings, parks and monuments all over Cyprus.
Print Page